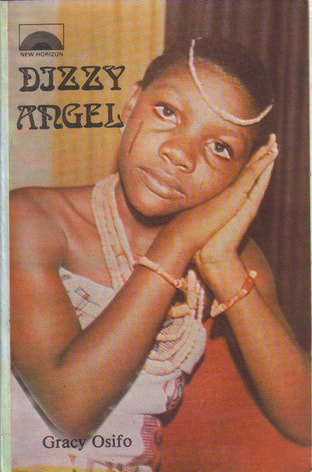 Coming from the Nigerian culture where female survival was a big issue in the 60s when I was growing up, two of my novels, Dizzy Angel and The Broken Bond, dwell on the themes of tradtional beliefs and their inhibitions on both men and women in general, but most especially, on young women.

​Before Christianity and other religions took firm roots in Nigeria, young girls suffered circumcision, and were often withdrawn from school after Primary education.  The parents felt it was a waste of money and time to educate girls – after all, they were designed to become the property of their husbands, so why waste money  paying school fees for them? Girls were, therefore, often married off to much older men as early as ages 15 or 16. 

​​Dizzy Angel tackles this discrimination against the female population, as well as other superstitions that were rife in the Nigerian society at the time. There are also attempts to deal with the issue of witchcraft, which, I fear, is still quite prevalent in the Nigerian society. Mingling traditional values and Christianity – which was new at that time – was a challenge for Ogbanje, the heroine of Dizzy Angel.   Ogbanje, herself, is said to be a spirit-child, one who has reincarnated so many times before and has come again now to continue the torment of her parents. Reincarnation – this is another huge issue in Nigerian traditional beliefs.
My first published novel is Dizzy Angel. It was published in 1985 by the University Press Limited, Ibadan, Nigeria.
It won an award in 1985 as " best novel for portraying the Nigerian traditonal and Western values and their intermingling conflicts."
Briefly, Ogbanje is a spirit- child, born to die. She has been born several times before to the same mother, Obiageli, and each time she was born, she lived a few months, died, and reincarnated soon after. This time around, her parents, Dolise and Obiageli are determined to keep her alive – will they succeed?

Dizzy Angel deals with the pertinent issues of superstition and other traditional beliefs in Nigeria and juxtaposes these with Christianity and other beliefs imported from the Western world. "Thrilling, enthralling and full of suspense" – West Africa Magazine, London, 1985.
Dizzy Angel has been an examination text in Nigeria for many years for Secondary School Children up to age 14.

PLEASE CHECK OUT MY OTHER PUBLISHED NOVELS – THE BROKEN BOND AND ADA IN LONDON ON THE FOLLOWING PAGES.
To buy Dizzy Angel, please fill out the form above and you'll be taken to Paypal to complete your purchase securely.

The Price – £19.99 includes postage which can be up to £9.99 for secure postage. Thank you.
REVIEWS.
MONDAY, SEPTEMBER 14, 2009
DIZZY ANGEL BY GRACE OSIFO. A Review by: Odidika Ikenna, Nigerian Blogger.
THE SUBJECT MATTER OF THE NOVEL:
One of the most important subject-matter of this novel,is the fact that
with God all things are possible. There is also an emphatic statement that fortune and destiny can be changed. It
takes our will, desires and determination to turn around our fortunes.
A critical look at the story, reveals the fact that our heroine in the story-Ogbanje was, can we say doomed from
birth. Destined to come and go, bringing pain and sorrow to her parent. The only way she can change her destiny
and avoid untimely death, was to marry a man old enough to be her father. But, she changed her destiny. She ran
away from home, defied the power of darkness and became a living testimony of the saving power of God.
THEMES IN DIZZY ANGEL
1) SUPERSTITION: This is one of the prominent themes in the novel. The villagers believe so much in witches and
wizards. The story begins with a witch hunt which climaxed with the identification of four women accused of killing
one of the villagers. There is also the belief in the power of men who are alleged to possess supernatural powers.
All these, are the product of our society. A society built on rituals and ritual performances.
2) REINCARNATION: This is the rebirth of a soul in another body after death. There is a belief that dearth is not
final. Hence, the belief that certain children possess evil powers that enable them to be born several times. The
Igbos call them Ogbanje, Yoruba call them Abiku, Hausa call them Wabi.
By: Odidika Ikenna, Nigerian
=============

==========================
Dizzy Angel
by Gracy Osifo – A brief review by: Toju Enofe D
aniels, June 11, 2008
Ogbanje is born to her mother as a child following several siblings that died at infancy so she is labelled as an
ogbanje, or abiku . From the time of her birth certain rites are carried out as a way of ensuring she remains on earth
rather than giving her parents the pain of an untimely death.
As she grows up she is petted as much as possible, because of the belief that any anger on her part will make her
depart from earth to her other kingdom, she is feared and respected by her mates and she is not allowed to go to
the stream on certain days. All these criteria are met while she is at home.
However, Ogbanje because of her intelligence and her father's wealth is able to attend the High School in a town
some distance off, where she has to be a boarder. Away from the supervision of her parents she begins to get liberal
in her thinking.
First of all she becomes a practicing Christian. This enables her to lose her belief in some of the rules guarding her.
She successfully escapes her marriage with the local high priest and escapes, thinking herself to be in love with the
son of the high priest who is also a Christian. Note that the high priest in question had been bethrothed to her at
birth.
To Buy Dizzy Angel, please fill out the form above.