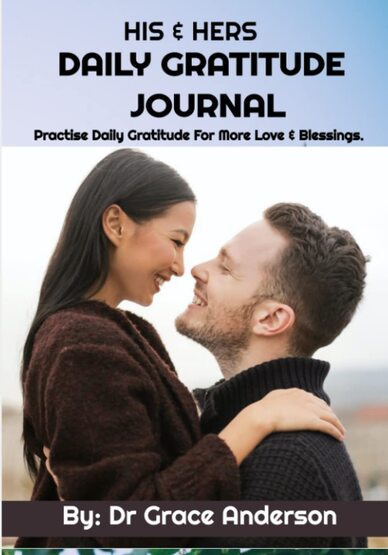 HIS & HERS DAILY GRATITUDE JOURNAL:
Practise Daily Gratitude For More Love and Blessings.
A Daily Journal for Appreciating the Little and Big Blessings in Your Life.
"Gratitude can turn a meal into a feast, a house into a home, a stranger into a friend." – Melody Beattie.
Take this Daily Gratitude Journal with you everywhere and make a note of the little and big things that make you laugh or make you happy.

Remember that the Most Spiritual Giants we know about, never had many worldly possessions – yet they remained happy and grateful for what they had.

Accept life's problems as challenges that you can overcome. Then, be grateful for the lessons you learn every day.

You are prompted to make a note of anything that makes you grateful every day.

You are also given the space to create Your Daily Goals and to report on your success the following day. Be grateful and proud for your achievements.

This Journal also prompts you to do one good deed daily, however small, for someone without seeking a reward.
I have given you some very inspiring quotes from well-known personalities to inspire you.

Remember, practising daily gratitude will open your life to more love and blessings.

This is a Paperback Journal with 122 pages. The size is 7″ by 10″, giving you sufficient writing space.
Give this journal as a gift to your friends and family.

To buy this Daily Gratitude Journal, please fill out the form above to be taken to the Purchase Page. Thank you.