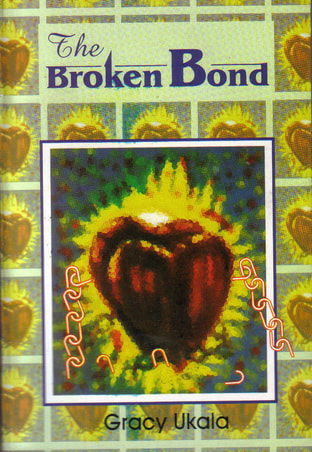 The Broken Bond 
 Belinda is thrown into a serious dilemma when her beloved mother dies in a ghastly and fatal motor accident. She has no choice but to take on the role of "breadwinner" for her family, as her father is always too drunk and confused to keep a job.
The events in Belinda's life force her to choose between her own education and that of her younger brother, Johnbull's. She sacrifices hers for her brother's, as she must trade and find the money, not only to keep her family alive and pay her brother's school fees, but also to pay rent to a greedy and lecherous old Chief Ojo, their landlord. The Chief has eyes, not only for her money, but also for much more!
How will Belinda balance the strict principles her late mother imbibed in her and her family's dire need for survival?
"This story is heart-rending and so true in many a Nigerian girl's life! Superbly told, racy and enchanting" – The Guardian, Nigeria, 2001.
TO BUY THE BROKEN BOND please visit Amazon.com
or fill out the form above to access the purchase page.
Read this Review on The Broken Bond

Copyright © IAARR 2011: www.afrrevjo.com
Indexed African Jour

nals Online: www.ajol.info
An International Multi-D

isciplinary Journal, Ethiopia
Vol. 5 (2), Serial No. 19, April, 2011
ISSN

1994-9057 (Print) ISSN 2070-0083 (Online)
Devaluation of the Feminine Worth through Poverty:
Examples from Grace Ukala's the
Department of English/Literary Studies, University of
Calabar, Calabar
E-mail:
jonduke2007@yahoo.com
Phone: + 2348037063754
Abstract
Poverty is fast becoming a global phenomenon that has taken a new
dimension throughout the world and in Africa in particular. The western
world as well as their media portray Africa and Africans in terms of
backwardness and often showcase the poverty level of her populace. This is
because during family skirmishes, communal clashes, as well as inter/intra-tribal
wars, women and children bear the brunt of these unfortunate situation
as they are forced to vacate their homes, abandon their meager resources
and food in search of same in order to keep body and soul together. During
this process, they are violated, abused physically and sexually, while some
are inevitably forced into juvenile marriage as well as prostitution as means
of survival. This paper seeks to elucidate the causes of poverty among women
and also profer solutions to the problems that poverty can generate. The
paper also rejects the feminization of poverty, if women are given equal
opportunities in life to proof their mettle.
Devaluation of the Feminine Worth through Poverty:
Example from
Grace Ukala's The Broken Bond.
Grace Ukala's

The Broken Bond

examines the dialectic of the proleteranian

fiction. Titi Adepitan (2006), avers that

The Broken Bond

dives into the

steamy life of the Nigerian nouveaux – riches with the crusading sense of

indignation that many Nigerians readily recognize. Belinda is the heroine of

The Broken Bond

. Her late mother, recognizing the importance of education

insists that she gets some formal education up to university level. Belinda's

hope is truncated when her mother dies. In this respect, Belinda's mother

subscribes to Nkechi Okoli's (2008: 61) claim that "with sound functional

education, women would gain economic power in terms of good job and

income which in turn determines their social and political power".

Bello, Belinda's father, is laid off from work. He squanders his meagre

resources on alcohol. He has no financial resources to fall back on. He can

not feed, clothe or pay his rent. His children are deprived and vulnerable.

Hitherto, Teresa, his late wife had been the breadwinner. This validates

Devaluation of the Fe

minine Worth through Poverty…
To read more of this review, please visit: www.afrrevjo.com.
Copyright © IAARR 2011: www.afrrevjo.com
To purchase The Broken Bond and read the exciting and racy story of Belinda, please fill the form above.